Analiese W. Smith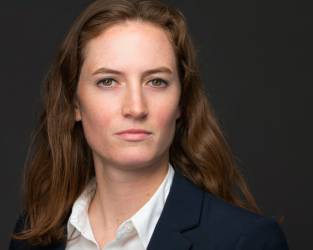 Analiese Willsey Smith is an Associate Attorney at Oxfeld Cohen, P.C. in Newark, New Jersey, where she practices public and private labor and employment law. Ms. Smith handles a wide array of legal matters, including but not limited to defending employee tenure, certificate, and disciplinary cases, preserving union collective bargaining and contract rights, upholding civil service employee rights, and combatting employer retaliation, discrimination, and harassment actions.
When Ms. Smith is not serving clients with Oxfeld Cohen, P.C., she also performs pro bono legal work and serves on the Board of Directors Selection Committee for the Center for Victim and Human Rights in Indianapolis, Indiana. Ms. Smith also serves as a Military Intelligence Officer / U.S. Army Captain in the United States Army Reserves.
Ms. Smith is barred with the New Jersey and Indiana Supreme Courts as well as the United States District Court for the District of New Jersey. She earned her Juris Doctorate degree and a Civil and Human Rights Graduate Certificate from Indiana University Robert H. McKinney School of Law in Indianapolis, Indiana where she graduated cum laude. While in law school, Ms. Smith also attended a virtual, one-week course at the Siracusa International Institute for Criminal Justice and Human Rights where she earned a Certificate of Participation in the 20th Specialization Course in International Criminal Law.
During her time in law school, Ms. Smith was involved in several organizations. Ms. Smith served on the Executive Board of the Indiana International and Comparative Law Review (IICLR) where she served as the Executive Symposium Publication Editor (ESPE). While in this role, Ms. Smith worked on a team to organize both a live and published academic symposium titled International Law and the Environment: Sustainability, Justice, and Climate Change Around the World.
Notably, Ms. Smith was a member of the Program in International Human Rights Law (PIHRL) and the Military Commission Observations Project (MCOP). Through PIHRL, Ms. Smith participated in several legal internships, including representing asylum seekers at Las Americas Immigrant Advocacy Center, serving individuals in deportation removal defense proceedings at Diocesan Migrant and Refugee Services, and working with international human rights law victims through the Truth, Reconciliation and National Unit Commission in Mahé, Seychelles.
While in PIHRL, Ms. Smith also had the opportunity to contribute to multiple Universal Periodic Review submissions to the United Nations regarding the legal rights of prisoners still held at Guantanamo Bay, Cuba. Likewise, through MCOP, Ms. Smith traveled to Guantanamo Bay in September and October of 2021 to attend, observe, be seen, analyze, critique, and publish materials on the Abd al-Rahim al-Nashiri hearings. Mr. al-Nashiri is a Guantanamo prisoner and Saudi Arabian who is the alleged mastermind of the U.S.S. Cole Bombing in 2000.