Employment Law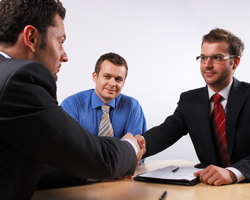 Employment Law practice on behalf of individuals or groups covers a variety of claims including discrimination, failure to promote, retaliation, unequal pay and violations of wage and hour laws.
It is illegal for an employer to treat an employee differently because of his race, religion, gender, national origin, ethnicity, age, sexual orientation or whistleblower status. In addition, it is illegal to retaliate against an employee for pursuing one of these legal claims.
Oxfeld Cohen represents clients both in the litigation of these claims and in the filing and pursuit of these claims when the employee initiates the claim through his company's internal harassment or discrimination policy. We are willing to work with a client to find the avenue through which the employee is most comfortable pursuing the claim. We are never intimidated by the tactics employed by large companies or their attorneys. We will not hesitate to litigate a claim to the fullest extent.
Employees who blow the whistle on employer illegal activity are also protected from retaliatory treatment under New Jersey law. We have worked with clients both at the litigation stage in these matters and prior to the whistleblowing to counsel the client on the appropriate course of action.
Employers may also treat employees illegally by failing to pay them appropriate wages. These are "wage and hour" matters and we handle these types of claims as well. Employees who work overtime hours for which they are not paid, or not paid appropriate overtime rates, may be entitled to compensation in excess of the overtime pay they are owed. Oxfeld Cohen has extensive experience in handling these types of claims both in court and before the New Jersey Department of Labor.